Had a BLAST opening for Pocket Vinyl at Artwell on June 14th with my buddy Drosh! Nosecrops & Raven Man made a guest appearance and stole the show! Many, many thanks to Keith from Desultory Theatre for inviting me; looking forward to more show opportunities. Eric and Elizabeth from P.V. are amazing people and I'd love to share the stage again. Hoping to put together a video from the night…stay tuned (no sour notes, please).
*********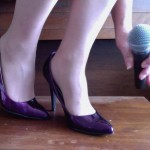 It's been 6 years since I made it to the semi-finals of the NW CT Idol contest, and I am once again competing and hoping to make it to the final, final round. This Saturday I will be singing a song made famous by Ann Wilson of Heart; not a music style I get to do often, so I'm gonna make it fun!
So, come on out and support me on Saturday, June 29 and July 13 at 7pm at Coe Park in Torrington. The final round (where audience vote counts!) will be Saturday, August 10th at the Warner Theatre, 68 Main St. in Torrington.
**********
July 11th is another No Stress Band show on the Cobble Court in Litchfield, and August 24th I will be performing originals at the Ladies 'N' Lyric show at the Historical Society in Torrington. Please see my schedule page for more details.