Gearing up with my good GlumPuppet friend, Drosh, for an outstanding and fun music act at Artwell Gallery on the corner of Main and Water Streets in Torrington at 8pm on Friday, June 14th presented by Desultory Theatre Club! We will be opening for the duo, Pocket Vinyl (Eric Stevenson slams on the piano and sings while Elizabeth Jancewicz paints on stage. The paintings are sold every night to the highest bidder).
I'll be bringing in a visual element with videos and costume elements to accompany orignal songs, including several from GlumPuppet performed live!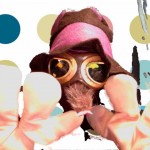 Tickets are $7 at the Door!
Doors 7:30 – Show Begins at 8
BYOB Event!! Come early and be SOCIAL!!