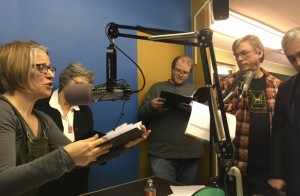 I'm continuing to record (and eventually write) with Nutmeg Junction radio show and doing more voiceover acting this summer. If you've missed any episodes, they can be found at NutmegJunction.com. So far, I'm in many episodes, including numbers 1-5, 15 & 16.  Of course, all the episodes are fantastic!
Nutmeg Junction is a NEW 100% originally scripted "Old Time Radio" style weekly half hour radio program which records at WAPJ studio in Torrington, Connecticut and airs on:
WAPJ (89.9 and 105.1FM) Sundays 1pm
WHDD FM 91.9, WHDD AM 1020, WLHV FM 88.1. WBSL FM 91.7): Monday Nights 7-9pm and rebroadcast on Saturdays 11am!
WESU beginning 5/27 at 3:30pm
and CROC Radio in Kimberley, Canada
We have been on the air since March 31st, 2018 and there have been over 30 vocal artists who have shared their talent and performed on the program.
——————————
48Hr Film Project, West Haven Film Collective team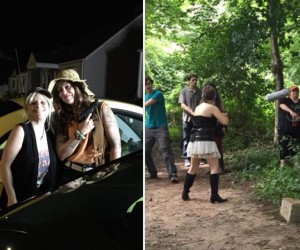 This weekend I participated on a short film for the 48 hr Film Project. I got to co-write and act in a short called "Everyone Bleeds." Yep, that's me  in the long boots in my first ever sword fight!