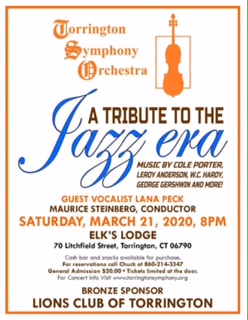 CANCELLED DUE TO COVID-19. Expect to reschedule for March 2022?
Gonna get my Swing on! I was asked by Maurice Steinberg to be the featured vocalist for the Torrington Symphony Orchestra's Spring 2020 concert, and have accepted the honor! Expect to hear 4 songs with the main orchestra and 3 songs with a special smaller combo. Maurice was able to find/transpose/transcribe music from my bucket list of songs, including: Swing, Brother Swing (an early Billie Holiday), Since I Fell For You (an Ella & Buddy Johnson tune, covered by many favorites including Dinah Washington and Mel Torme!), and an uptempo (per my request) version of How Long Has This Been Going On (not the Ace song, but Gershwin).
Tickets are limited at door, call Chuck at 860-214-3347 to reserve.
~~~~~~
I've been a bit lax about posting to this site, so I missed a show. Neil Simon's Rumors presented by CTAW in Woodbury, CT that ran the first couple of weekends in January.
I got to play the role of Claire Ganz.

Here's a review from the Patch; there was also one in the Republican-American: